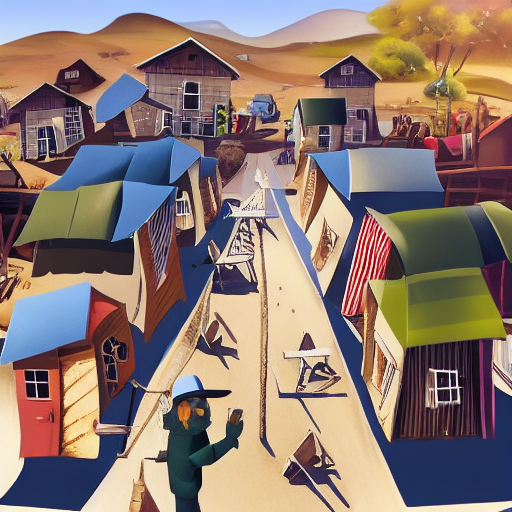 Down at A Shack for Dad™, we'll get your ol' man hooked up with a one room shack equipped with a single cot, electric hotplate kitchen and a built in combination: shower-toilet-sink & mirror. He's going to love it! The walls are not too thick so he'll always be chilly, so sweaters are a must. The shacks are stacked right up next to each other, like a shanty-town, just right for a curmudgeon like him to meet other ill natured souls.

We've got a single level meal plan which most tenants find quite appealing. Beans, eggs, wheat bread for toast, potatoes and an assortment of protein provided by our resourceful gamekeeper. All designed to keep those arteries gummy.

Your Dad will have lots to do: relearn the art of chewing tobacco, horseshoes, whittling (with Barlow pocket knives, a favorite), bocce ball for the European sort, and craft classes that nearly every Dad tries once, gives up and resorts to cussin', spittin' and returning to what makes them happy—weather-talk and politickin'.

Of course, there will always be something to complain about, but amenities are sparse enough to never have him grumble about you spending too much money on an "old man like him."

Electronic gadgets are allowed, however we no longer have a tech-geek available so, your ol' Pa is on his own.

If you're worried about his health we have a full medical staff onboard who are poised to shock barrel-chested men, perform elective podiatry, and as a special treat, on loan from the Cadillac Ranch, a fleet of comely nurses skilled in the art of prostate exams.

At A Shack for Dad™ we've got all the basics covered. Our spartan setting, level walkways (very few stairs), historically accurate nutritional program, quintessential entertain package and exhaustive therapeutic and remedial line up will entice even the most content father or father-in-law into "joinin' the ol' boys" for some rip-roaring debates and down-home pastimes.

For additional information, please navigate to http://www.old-geezers-rule.com/AShackForDad.
Image created with https://scribblediffusion.com/